Black Velvet Sundae
Summer 2009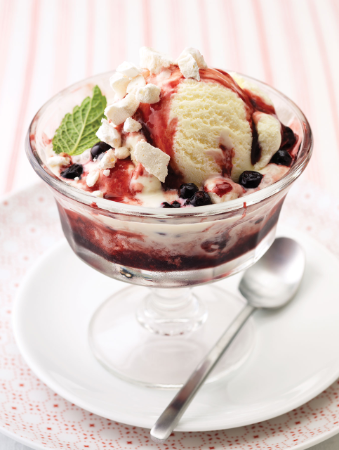 Black Velvet Sundae
Summer 2009
BY: James Chatto
The blackcurrant compote can be prepared in advance—blueberries or blackberries can be used if blackcurrants are unavailable. Using a scoop of blackcurrant sorbet with two scoops of vanilla ice cream adds an extra dimension to the recipe. Shop-bought meringues are perfectly acceptable (no one wants to be baking meringues on a hot summer afternoon). Stiffly whipped cream is the final indulgence.
6 oz (175 g) fresh blackcurrants
1 tbsp (15 mL) sugar
2 tbsp (25 mL) freshly squeezed lemon juice
1 bottle (200 mL) Lejay Crème de Cassis
Vanilla ice cream
1 1⁄2 cups (375 mL) coarsely crumbled meringue
Whipped cream (optional)
1. Stir together blackcurrants, sugar, lemon juice and crème de cassis in a small saucepan over medium heat. Bring to the boil then simmer for 2 minutes so that currants are still whole. Let cool.

2. To make 4 sundaes, add 2 or 3 scoops of ice cream to each sundae coupe.Smother with 1⁄4 blackcurrant mixture. Top with crumbled meringue and whipped cream, if desired.
Share