Beef Ginger Salad
Early Summer 2009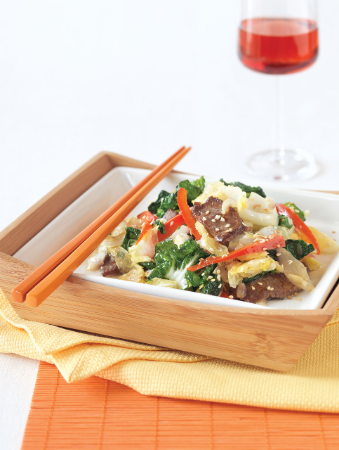 Beef Ginger Salad
Early Summer 2009
BY: Emily Richards
Hot steak combined with colourful vegetables and the fresh Asian flavours of ginger and sesame will spark up your dinner table in this quick sauté.
Salt and pepper
1 striploin grilling steak, about 9 oz/275 g, thinly sliced
1 tbsp (15 mL) vegetable oil
1 tbsp (15 mL) sesame oil
2 shallots, thinly sliced
1 tbsp (15 mL) minced fresh ginger
1 clove garlic, minced
2 cups (500 mL) thinly sliced napa cabbage
3 baby bok choy, chopped
1 red pepper, thinly sliced
2 tbsp (25 mL) apple cider vinegar
2 tsp (10 mL) sesame seeds
1. Sprinkle salt and pepper on steak slices. Heat vegetable oil in nonstick skillet over medium-high heat. Sauté steak for about 3 minutes or until hint of pink remains. Remove to plate.

2. Add sesame oil to skillet and return to medium-high heat. Add shallots, ginger and garlic and sauté for 2 minutes. Add cabbage, bok choy and red pepper and sauté for about 3 minutes or until tender-crisp. Add beef to skillet and toss to coat. Drizzle with vinegar and sprinkle with sesame seeds before serving.
Share